Monday, June 01, 2009 // 1:52 am
If you're ever in Vegas you really should go see Blue Man Group. Zombs and I just got back from it, courtesy of some free show tickets, 4th row center, just feet from the stage. It was a stunning audio, visual and comedic treat, and an hour and a half of pure awesomeness.
Since I can't find a clip of the damn thing I want to post -- a neon light-show ode to truck stops and the Old West -- make do with this one instead.
And, for giggles, here's my new Myspace profile photo: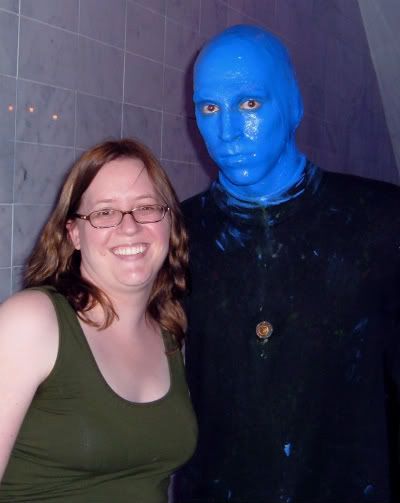 Daveman
June 13, 2009 07:04 AM PDT

YEAH! I like these guys. In the Heterophobe context. :-)
I like blue people. Some of my best friends
have been blue. Ok, Im lying. I dont trust blue people.
They are bald and blue. But talented.
Not that there is anything wrong with Bald - I may one day be there myself.

If you guess I am just rattling for lack
of anything tntelligent to say - you might
be right. Not that I am admitting to
anything :-)

Hugs
~ Dave
//